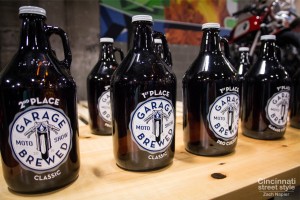 Garage Brewed Moto Show – Our show entries are curated by our review committee and invited to participate. They put a lot of time, energy and passion into bringing their best bikes to the event.  Unlike most shows our judging is by the public attendees at the event using digital voting kiosks by sponsor: ElectronicArt.com. So there is no panel of snotty judges with white gloves and inspection glasses.  No, the attending public choose their favorites and the chips fall where they may.  You'll have to impress your fellow garage builder or motorcycle enthusiast if you want to win a "Grophie" (Growler trophy).
The winners from our 2015 entrants are shown below and we'd like to give them all a huge thank you and round of applause.  Well, internet applause at least.  Show your love via social media with hash tags of #GarageBrewed #Rhinegeist and #RevitXgaragebrewed
Pro Custom Category:
Staud Cycles – John Staud Builder. 1972 Triumph custom bobber. Fairfield OH
Eric Ratterman – 1955 BMW R50/2 land speed record holding race bike. Named: "The Bonneville Bike". Cincinnati OH
KrossOver customs, Kacey Elkins – 1979 Yamaha XS650 named "Leftover".

Lancaster KY
Garage Custom Category:
Tim Reeder – 1980 Yamaha XS400, Cincinnati OH
Tommy Rumpke – 1983 Honda CB1100F SuperSport, Cincinnati OH
Skinny Ricky – 1971 Triumph 500 named "The Ghettoblaster", Newport KY
Classic Category:
Rocky and Beverly Corsmeier – 1938 Indian Four Cylinder Cincinnati OH
Christopher Heck – 1970 Triumph Bonneville T120 Cincinnati OH
Tim O'Connor – 1966 Puch  SGS-250 Cincinnati OH
People's Choice Award:
Tim Reeder – 1980 Yamaha XS400, Cincinnati OH
Congratulations to all the winners and thanks to the sponsors who provided swag for winners including: REV'IT, Dime City Cycles, Workshop Hero, DEI Power Sports, and thanks to additional sponsors helping with making the show happen including: Haney Printing, Excuterra Moto Excursions, Electronic Art, and the generous time and labor from members of the Cincinnati Cafe Racer club, who worked tirelessly to build, staff and execute the show.
See a nice photo spread over at Cincinnati Street Style's blog showcasing many of the bikes.  Also search social media with the hashtag #GarageBrewed and you'll get an eye full.