Coming Saturday January 29th, 2022, Cincinnati Ohio
Come see what's brewing in midwestern garages at the fifth annual invitational motorcycle show. Throughout the Ohio river valley and surrounding area of the midwest you'll find some incredible builders brewing up custom bikes. Some are professional with large garages and matching budgets. Others are just your next door neighbor working out of their two car garage. This curated show gives you a taste of what hard working rust belt builders are crafting.
This is a FREE show provided by volunteers of the Cincinnati Cafe Racer club.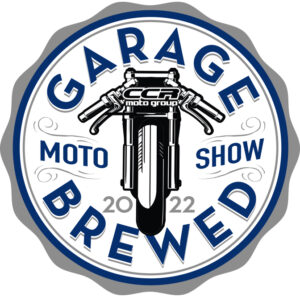 Our show gives you something a little different than you normally see and provides a bitchin' party inside of a great brewery, Rhinegeist Brewery in OTR Cincinnati. This indoor venue is perfect for Midwest winters.
The area is heavy with Bavarian German immigrant influence and during the 1800's Cincinnati was the third largest beer producer in the country. Today we have a revitalization of the brewing tradition and are building a Brewery Heritage Trail in the area known as "Over The Rhine" or OTR. The Garage Brewed show is held inside of the Rhinegeist brewery located in the OTR brewery district.
Follow us on Facebook and Instagram:
Contact us for more info or to get involved in our 2022 event. We are actively seeking sponsors and vendors. Also see our Frequently Asked Questions page.
Sponsored by